1. Broad range for your daily commute and road trips.
The average work commute is 25.6 miles round-trip, according to the
Federal Highway Administration
1
. That means that in a BMW i3, you can take the long road home from work and maybe do some shopping along the way. You could even drive from San Francisco to Carmel Beach for the weekend and recharge overnight, or take a day trip from San Francisco to Sonoma and back on a single charge.

According to 2019 estimates by the EPA and US Department of Energy. Range attainable when fully charged.
(https://fueleconomy.gov/feg/Find.do?action=sbs&id=41054&id=41212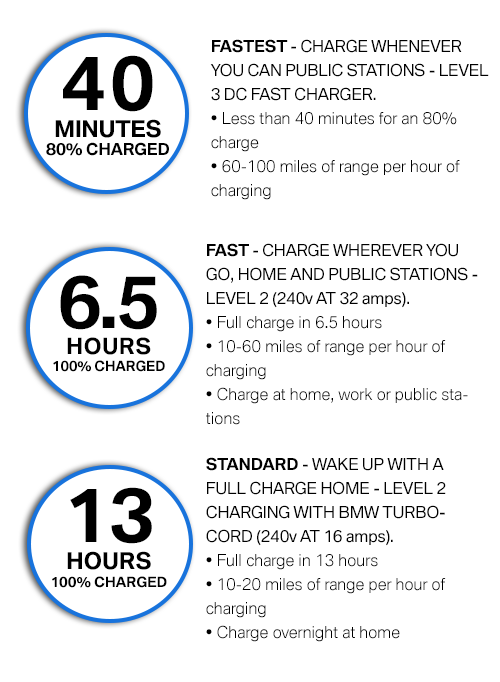 1 Note: Time is for 2019 BMW i3 with 42 kWh battery. Charge times are approximate.
2 Range added per hour is from Energy.gov. A colder ambient temperature can make it take slightly longer to charge, particularly when using a rapid charger. Colder temperatures also mean vehicles are less efficient, so less miles are added per time charging.
2. Charging options that are simple and convenient.
While many EV owners charge at home so they wake up every morning with a full charge, there are more than 18,000 charging stations in
California
2
, with plans for even more. That means you can often charge your BMW i3 where you park while grabbing lunch or grocery shopping - in a city lot or at work, and at many hotels, restaurants and shopping malls.
3. Ultimate Driving Machine performance combined with life-changing benefits.
Enjoying emissions-free mobility doesn't mean you have to sacrifice performance. The i3 is, after all, a BMW, and with its 170-hp electric motor, 181-hp for the i3s, these models set the benchmark for sporty performance among premium compact electric vehicles. And when you add the fact that you'll never have to change the oil or fill up with gas, and it's eligible for HOV lane access, the benefits of driving a BMW i3 can be life-changing.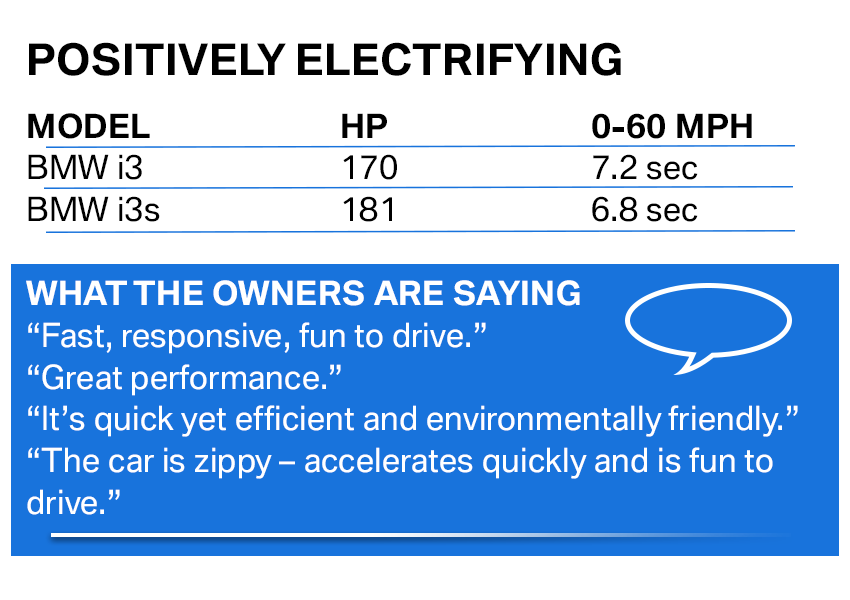 BMW AG test results. Actual acceleration results may vary, depending on specification of vehicle; road and environmental conditions; testing procedures and driving style.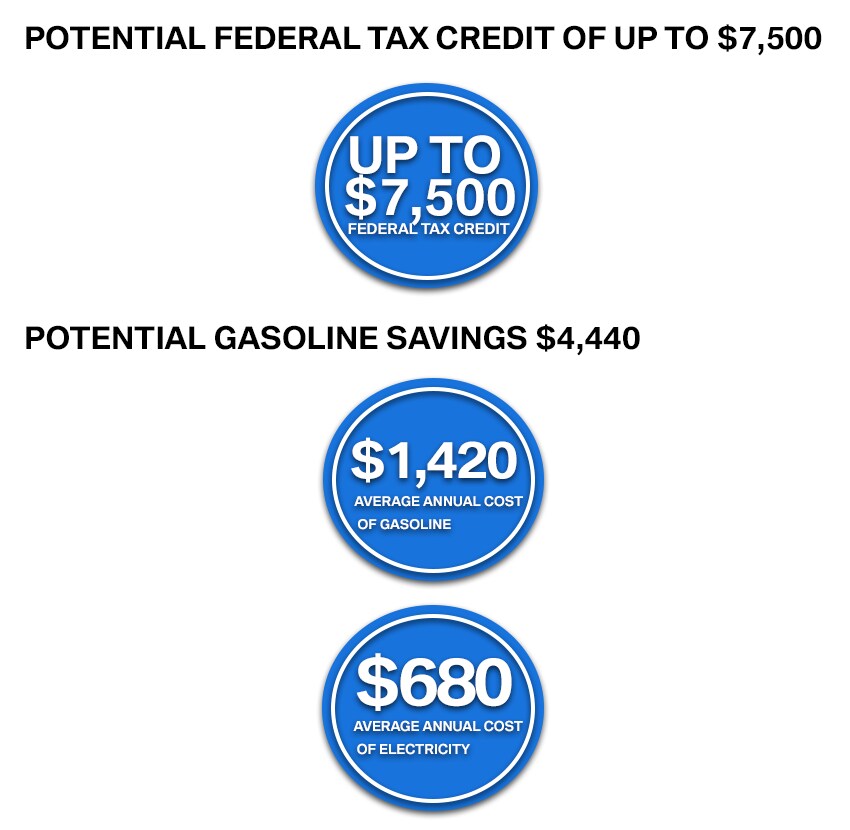 The average California resident drives 12,000 miles per year and spends about $1,420 on gasoline. In comparison, the cost of electricity to power the BMW i3 is less than half that. Over the six-year average length of car ownership, that's about $4,440 in gasoline savings.
We've assumed a fuel economy of 30 mpg (www.fueleconomy.gov/) for a comparable gasoline powered sedan. For example, the 2018 BMW 3 Series and $3.55 per gallon average for all grades of gasoline in CA (www.eia.gov): 12,000 miles / 30 miles/ gallon = 400 gallons/year. 400 gallons * 3.55/gallon = $1,420 for gasoline per year or $8,520 for gasoline in six years. We've assumed a combined electricity consumption of 30 kwH per 100 miles (www.fueleconomy.gov/) for the BMW i3 and the 2018 CA average of $0.189 per kwH for electricity (source: www.eia.gov/): 12,000 miles / 100 * 30 kwH = 3,600 kwH/year. 3,600 kwH * $0.189/kwH = $680 for electricity per year or $4,080 for electricity in six years.
The BMW i3 is eligible for a federal tax credit of up to $7,500.

Actual savings from the federal government depend on your tax situation. We recommend consulting a tax professional to validate credit availability and eligibility. While BMW of North America, LLC, does its best to keep this information up-to-date, it cannot guarantee the current accuracy or your eligibility. In addition, California owners are eligible for many other statewide and local incentives.

Please check
energy.gov
3
for information on eligibility and availability of incentives in your city or community.
5. Smartphone app puts control at your fingertips.
The BMW Connected app provides a digital link between your BMW i3 and your smartphone.
Manage battery charging and monitor your electrical consumption
Pre-condition the interior temperature before your next journey, maximizing battery efficiency
Lock or unlock your BMW i3
Keep track of where you parked
Find nearby parking spots
Send a destination from the app to your in-car navigation system
Track your driving efficiency
Find out more about staying connected from your BMW Client Advisor.
Please note that the BMW i Remote App can only be used in conjunction with a compatible smartphone and BMW i vehicle with an active BMW ConnectedDrive contract and Remote Services configured within the BMW ConnectedDrive customer portal.